US Response Over North Korea's Nuclear Ambitions In Terms Of Military Options
Top US security advisors and President Donald Trump said on Friday that there are military options available to deal with North Korean situation while according to some experts, there are no valid option available.
After UN sanctions imposed on the North Korea in order to control their nuclear development, Pyongyang fired a ballistic missile over the northern Japan on Friday.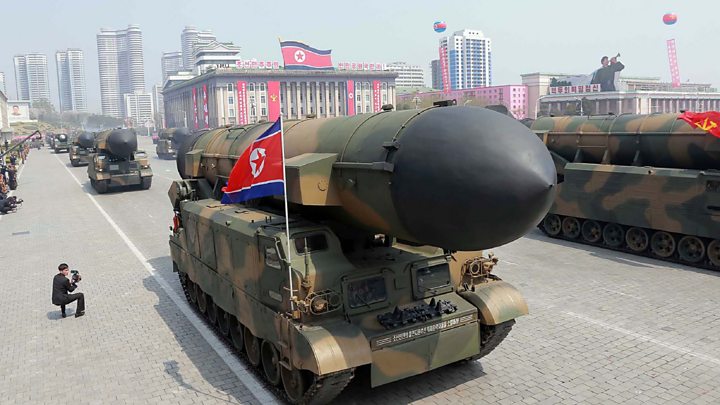 Which has increased the tensions as remembered that before launch North Korea has threatened to Japanese government about missile attack and now US condemn the launch.
Donald Trump stated at Joint Base Andrews that after the North Korean's missile launching over Japan on Friday, now American army has many options to deal with their opponent crisis.
US president has pointed out about the military power that they have extreme power and can give the best effective answers to Pyongyang for their fired ballistic missile.
On Last Monday, United Nations Security Council decided to impose the sanctions over North Korea due to their fast growing nuclear powers, Donald Trump had requested to UN for sanctions.
So 15 member of the council imposed sanctions on Pyongyang over textile products import and on their oil which is a big weapon now a days.
US president after imposition of sanctions on the North Korea said that these sanctions are very light for such a country.
More tougher it needed while in reaction of these sanctions Pyongyang said that they will move forward and the country will accelerate their missiles projects.
With the passage of days, tensions are increasing in the regions as after UN sanctions North Korea fired a missile over northern Japan on Friday while Now US President Donald Trump has said that America has many effective options to save their people and to give response to Pyongyang for their ballistic missiles launch, in terms of military use.